WHAT IS PSEUDOPTOSIS?
Posted On: August 03, 2010 Author: The Office of Dr. Stuart Linder Posted In: Breast Augmentation, Breast Implants, Breast Lift
Pseudoptosis is basically a form of ptosis or skin laxity of the breast where the nipple areolar complex is above the inframammary fold; however, there is redundant skin.  This is often seen with patients who have been breast feeding or some patients who have been pregnant.  However, they have not had the nipple descend below the inframammary fold.  In fact, pseudoptosis patients are excellent candidates for straight augmentation mammoplasty procedure without breast-lifting.  In other words, they get excellent results with silicone or saline implants placed in the dual plane technique without the necessity of scarring of the vertical or Wise-pattern anchor scars.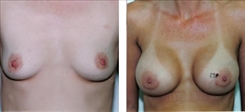 Examples of pseudoptosis will be shown.  Note that there is excess skin, however, the nipple is well below the fold which allows an excellent stretching of the skin of envelope by using saline and/or silicone gel implants under the muscle without the need for skin laxity.
To schedule your consultation with Dr. Linder or learn more about breast augmentation surgery, call our office at 310-275-4513 or fill out our online contact form today.