65th Annual Prime Time Emmys
Posted On: September 24, 2013 Author: The Office of Dr. Stuart Linder Posted In: Media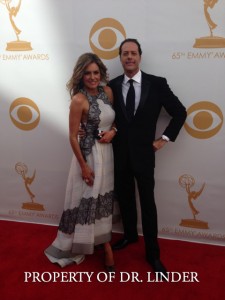 Yesterday, my wife, Crystal, and I had the opportunity to attend the 65th Annual Emmy Awards.  We first walked the Red Carpet which allowed me to firsthand examine, as a plastic surgeon of sculpting women's bodies, the type of dresses that give women the most flattering figures.  The dresses in general were shorter and showed greater tapering along the upper chest area.  Many of the women wore lace and colors were definitely "on the in" on the Red Carpet.  Sofia Vegara wore Vera Wang with a form-fitting top, tapered, hip-hugging with a long trail.  Cat Deeley wore a black Romani gown that was tapered along the lateral breast to slim down her upper body appearance.  Heidi Klum wore a skin tight Versace with a long trail, showing upper shoulder and chest area.  Kerry Washington wore Marchesa, a creation in white which accented her bust line down to the hips.  Carrie Underwood, who performed an amazing Beatles tribute, looked elegant wearing purple color side-swept with a shoulder back trail.  This was a very form-fitting dress which proportioned her body and matched her beautifully.
As we had the opportunity to walk the Red Carpet, my wife and I greatly enjoyed seeing Michael J. Fox.  Michael looks fantastic.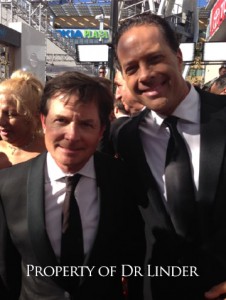 I think we both had the same clothier.  I wore Ralph Lauren with a similar black long tie.  Check out Michael J. Fox's new show this fall on NBC.
It was a pleasure seeing Michael Douglas as he won his next Best Actor Emmy last night.  Matt LeBlanc was fantastic at the Governor's Ball, wearing all black, a black shirt on black tie.  It was great seeing Jimmy Kimmel and his cousin Sal, who always hilarious and a pleasure.
Then there is my wife and me on the Red Carpet.  Crystal wore a long white and black Lela Rose dress with a long trail.  The upper shoulders of the dress accented her upper arms and lateral chest beautifully.
It was great seeing Nancy O'Dell at the Entertainment Tonight booth on the Red Carpet; she looked elegant as always in long green attire.
Neil Patrick Harris did a wonderful job this year both in announcement, choreography, dancing and comedy.  He is a truly gifted actor and dancer and would do a wonderful in the future re-hosting the Emmy Awards if given the chance.