BEVERLY HILLS ABDOMINOPLASTY
Posted On: June 02, 2022 Author: The Office of Dr. Stuart Linder Posted In: Tummy Tuck
Interestingly, not a lot has changed over the last 30 years on tummy tuck surgery.  The gold standard is still a lower abdominal C-section-like scar which is extended all the way to the hips bilaterally.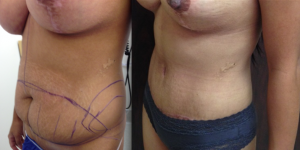 Notice this patient preoperatively has significant abdominal wall laxity, skin laxity and her muscles have been pulled apart, called rectus diastasis.
Her six-week post-op shows beautiful tightening of the lower abdominal musculature, tightening of the skin along the lower abdominal flap and notice the scar is well-hidden under the bikini line.
Liposculpturing of the hips has allowed smoothing out and contouring as well.  Conventional standard abdominoplasty surgery should be performed under general anesthesia by only Board Certified Plastic and Reconstructive Surgeons using Board Certified Anesthesiologists.
Our patients are given muscle relaxants in order to relax the abdominal wall and allow tightening with the O-Ethibond sutures along the midline rectus sheath, both above and below the belly button.
Our patients are instructed not to do heavy lifting for six weeks postoperative.  Notice her after-result.  Both frontal and oblique views show beautiful flattening of the abdominal stomach.  She is now continuing her exercise regimen, including training and muscle fitness.
Abdominal Enhancement 9-Week Post-Op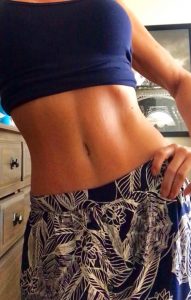 It's been about nine weeks since I performed a full makeover on this 46-year-old female after she had lost over 150 pounds. Along with a breast lift and brachioplasty, I also addressed her abdominal area. Due to the weight loss and post-pregnancies, she had a significant amount of extra skin around her stomach area. During the tummy tuck, I made an incision near the inferior position above the suprapubic hairline, corrected the abdominal skin laxity, and repaired the rectus muscles.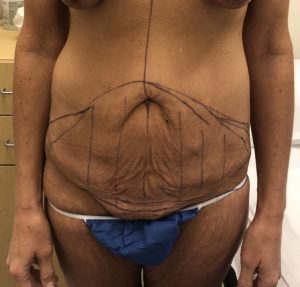 The patient just recently sent us a photo taken from home, and I am very pleased with the outcome of her abdominal area.
Over the years, I have found tummy tuck surgery to be very rewarding for most patients. Below is just one example of a patient after have body contouring, and how she feels after having this type of procedure 8 weeks post-op.
I am Very satisfied with my results. I had a tummy tuck done after having 5 children I had lots of stretch marks and Dr. Linder got rid of them. It was all worth it. My belly button looks completely natural. You wouldn't tell I had anything done. Thanks to Dr. Linder and his staff. Everyone was so kind.
E. R.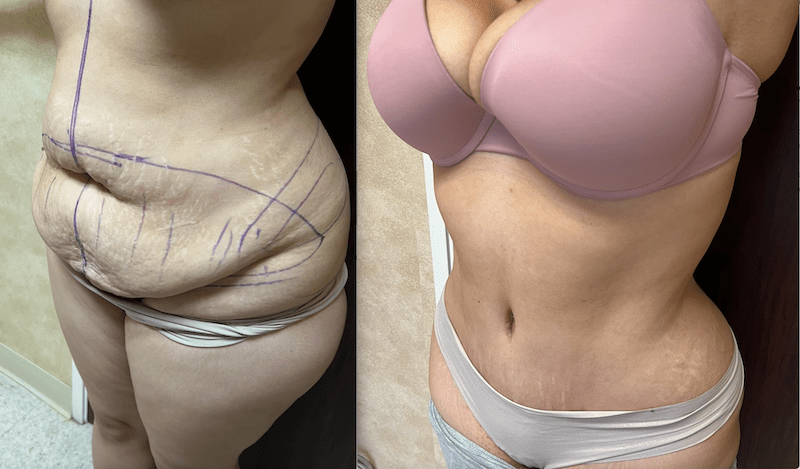 To schedule your consultation with Dr. Linder and learn more about abdominal enhancement, call our Beverly Hills office at (310) 275-4513 or fill out our online contact form today.