High Profile Saline Primary Augmentation
Posted On: May 03, 2022 Author: The Office of Dr. Stuart Linder Posted In: Breast Augmentation, Breast Implants, Breast topics
2 Minute Read: 
Women who feel self-conscious about the shape or size of their breasts and are over the age of 18 are excellent candidates for primary breast augmentation surgery with saline implants. Breast augmentation allows women to have input on their results during the consultations, as they discuss what size and profile breast implants will meet their expectations and goals.
Once the implant size is selected, the surgery involves placing the implants, either subpectoral (under the muscle) or subglandular (over the muscle). Dr. Linder, in most cases, will use the subpectoral placement using the dual plane technique. This allows implant coverage and visibility reduction along the sternal and cleavage region.
Below are three case studies showing the saline implants used to meet each patient's goals.
Case Study #1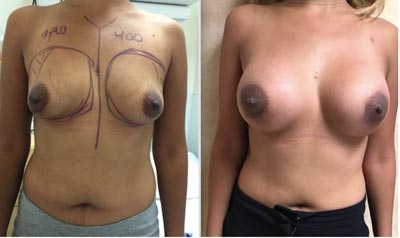 The patient to the left is a 27-year-old African American female that was requesting a primary
breast augmentation
. During the consultation the patient explained her desire to enhance the size of her breast, but also stressed that she wanted to look as natural as possible. After setting her expectation we agreed to use high profile saline 350 cc implants and during the augmentation surgery I overfilled the left implant to 400 cc and the right to 390 cc.
The post-op photo is eight weeks out, and she is very pleased with her enhanced and natural look.
Case Study #2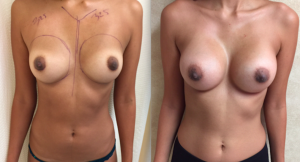 The patient to the right is a 24-year-old female requesting a breast augmentation. As you can see by the preop photo, both breasts were already nicely balanced.  The patient was looking to increase her size and fullness overall. After she had explained her expectation, we selected 325 cc high profile saline breast implants for her
primary augmentation
.
The post-op photo is six weeks out, and she is happy with the size and AP projection.
Case Study #3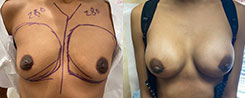 The patient to the left is a 23-year-old female that was looking to enhance the size of her breast. Her goal was to ensure that they look as natural as possible with a nice fullness. After listening to her, we agree to set a date for her augmentation.
During the surgery, I placed 280 cc high profile mentor saline implants. She is only one week out; however, she looks very natural and has achieve a well balanced fullness.
For more information regarding breast augmentation surgery or to schedule a consultation with Dr. Linder, give us a call at
(310) 275-4513
 or feel free to 
contact us
 via email.