UNDERSTANDING CAPSULAR CONTRACTURE BEVERLY HILLS
Posted On: July 06, 2022 Author: The Office of Dr. Stuart Linder Posted In: Breast Revision, Capsular Contracture
Breast Revision for Capsular Contracture
What is capsular contracture?
Capsular contracture is simply scar tissue hardening around implants in which the patient can have severely disfigured and painful breasts.  We see this every week, as Dr. Linder specializes in breast revision surgery, seeing patients in his Beverly Hills office.
Capsular contracture is associated with scar tissue. Scar tissue is associated with three components. The capsule hardening is associated with collagen, myofibroblast and blood vessels which can all harden around an implant, the prosthetic device which can lead to severe encapsulation and painful breast deformity and disfigurement.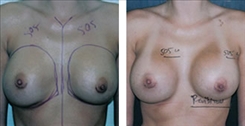 There are four classes of capsular contracture referred to as Baker scale.  Baker I is no capsular contracture with a soft, viable breast.  Baker II is a palpable capsular contracture where it feels hard, but there is no disfigurement.  Baker III is disfigured hard and palpably hard breasts.  Baker IV is considered the worst in which there is disfigurement, hardening, pain and an often cold, tight scar tissue contracted breast, often associated with superior retroposition of the implant with severe tenderness even with mild palpation. 
Capsular contracture is one of the most leading causes of revision breast surgery for both breast augmentation and breast cancer reconstruction. Only Board Certified Plastic and Reconstruction Surgeons should be performing these difficult revision surgeries. Dr. Linder looks forward to seeing patients in 2010 for their breast revision and breast augmentation needs.
Case Study: Capsular Contracture With Sling, Breast Revision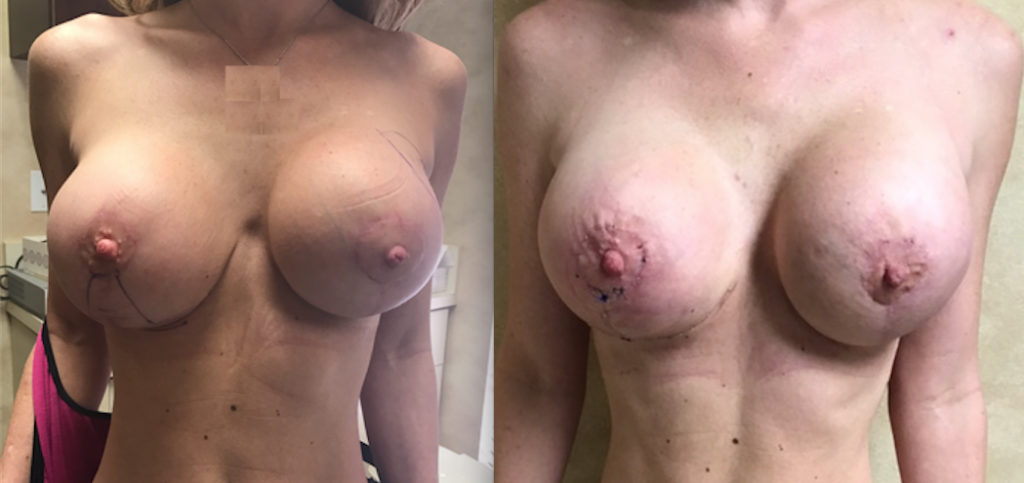 The patient above came into my Beverly Hills office looking to correct a previous augmentation. During her examination, it was apparent that she had capsular contracture (hardening of the breast) due to scar tissue around the implants. After listening to her goals, we scheduled a breast revision surgery.
Treatment of capsular contracture involves multiple steps to decrease the chance of recurrence. First, I remove the current implants and then perform a complete capsulectomy (removal of all the scar tissue). I then put a dermal mesh sling around the right implant to help prevent the risk of scarring again. I replaced the old implants with 560 cc SRX extra-full profile silicone implants, which have a smooth shell surface and will provide the patient with a fuller, rounder look.
The post-op photo to the right is now four weeks out. As you can see, her breasts are balanced (symmetrical), and she has a nice fullness.
Case Study: Capsulectomy Without Removal of Breast Implants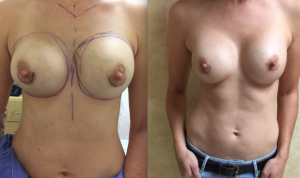 The female patient presented is 35 years of age and requested to have a breast revision. During the examination, I confirmed that she had capsular contracture (scar tissue) around the implants. Since the patient had her breast implants for fewer than two years, we agreed to perform a capsulectomy, which I removed the scar tissue around the implant and circumferential release, allowing the capsule more space and volume for the implant.
As you can see by the post op photo, she now has a nice natural look. I did not have to remove her breast implants to achieve the success of this surgery. Six weeks out, she is very pleased with her results.
For more information regarding breast revision surgery or a consultation with Dr. Linder, give us a call at (310) 275-4513 or feel free to contact us via email.