Breast Augmentation to Correct Deformity
Posted On: November 29, 2011 Author: The Office of Dr. Stuart Linder Posted In: Breast Asymmetry, Breast Augmentation, Home, Tubular Breast
TUBULAR BREAST DEFORMITY
BREAST ASYMMETRY – SEVERE
The below case is a patient who is 20 years old, presenting with severe tubular breast deformity on the left with severe breast asymmetry and right breast ptosis.  To reconstruct this young lady's breasts in order to create a normal appearance, requires both different volume implants as well as a formal mastopexy on the right as well as release of the tubular breast deformity on the left.  This patient underwent augmentation mammoplasty procedure with 160 cc high profile saline implant placement on the right and 280 cc high profile saline implant placed on the left.  An inframammary release of the pectoralis major fascia was performed on the left in order to reduce the tubular breast appearance.  She also underwent formal mastopexy using the inferior pedicle Wise-pattern technique on the right to recreate a symmetric nipple areolar position and reduce the grade 3 ptosis.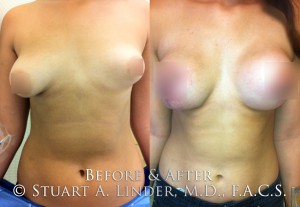 The patient is now at three weeks postop, sutures have been removed today, the nipple areolar complex positions are even and the size is quite good.  The inframammary folds are even and the swelling is reduced greatly.
Only Board Certified Plastic and Reconstructive Surgeons should be performing these very difficult operations of tubular breast deformity with conical shaped breasts as well as breast asymmetry and ptosis.