Breast Lift, Breast Augmentation Revision
Posted On: September 18, 2019 Author: The Office of Dr. Stuart Linder Posted In: Breast Augmentation, Breast Lift, Breast Revision
The tubular examples show patients who underwent breast augmentation and breast lift surgery by a different surgeon with unsatisfactory results.  Both of these patients had breast lifts that were performed with inadequate amounts of skin removed as well as with implants placed in the malposition.  As a result, these patients have required total breast reconstruction requiring bilateral open periprosthetic capsulectomy, circumferential open capsulotomy, removal and replacement with larger high profile saline implants and complete revision formal mastopexies using the inferior pedicle Wise-pattern or anchor scar technique.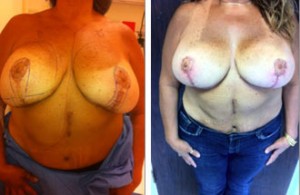 Note on example 1, the nipple areolas are actually quite stretched out.  She had a Benelli lift, around block technique, which simply caused stretching of the areolas with widespread subtle-like scarring.  She is very dissatisfied that the nipple areolas actually did not elevate whatsoever.  Rather, she ended up with widespread areolas and the nipples still in the low position.  The implant is high on the left with scar tissue contracture and is a flat moderate profile showing a very displeasing result.  Her after photo notably shows high profile 600 cc saline implants over-filled to 650 cc, open capsulotomy lowering the left implant and complete revision of the breast lift showing a nicer pattern to the nipple areolar complex, reducing the tension around the areola, allowing for a more rounded shape and less of a sunray appearance.  The vertical scar has actually healed quite nicely as well.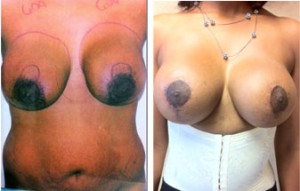 Example 2 indicates a patient who underwent augmentation mammoplasty procedure twice and a breast lift by a different surgeon with severe encapsulation and right double-bubble breast deformity.  Flattening of bilateral breast was extremely unpleasant to the patient.  She also underwent open capsulectomy, replacement with 700 cc high profile saline implants through the periareolar approach and then open capsulotomies high profile implants were used and then the nipple areolar complexes were reduced with a complete formal mastopexy.  The after photo shows a nice rounding shape to the breast, no longer flattening along the inframammary fold.  The nipple areolar complexes are now in the proper position.  The right one has been lowered and there is no further bottoming out.
Breast augmentation mastopexies require tremendous experience in judgment by Board Certified Plastic Surgeons.  Make sure your doctors are specialists in breast augmentation as well as reconstruction and revision when considering this difficult operation.
To schedule your consultation with Dr. Linder and learn more about breast lift and breast revision surgery, call our Beverly Hills office at (310) 275-4513 or contact us online.
Dr Linder,

Thank You!  At 60 yrs with 3 surgeries behind me, I was scared to death to try to fix my problem again. From the first phone call with Nellie, ( I luv you Nellie!) she put me at ease and that gave me hope of walking in another office.  Meeting you, sealed the deal. You were so kind and understanding. Very professional to tell me you would 'help me' make the decision regarding size according to my body, skin, previous surgeries, etc..I was very, very afraid until I met you and your staff. You ARE a master at revision surgery!!  My boobs are wonderful, Awesome, in fact!!  The whole procedure was something to learn from. Choose the best and you won't regret it!  Adrianna, I appreciate you!  All your help and kind hug made me cry! Surgery staff, you're the best!! I will tell everyone, EVERYONE…if you want the best, see Dr Linder!!!!  Again, thank you soooooo much for my 20yr old looking boobies!!!

A.C

California