Breast Revision in Beverly Hills, Hollywood
Posted On: October 29, 2008 Author: The Office of Dr. Stuart Linder Posted In: Breast Revision, Home

The next few blogs are going to specifically describe breast revision procedures and the need for corrective breast surgery after breast augmentation.
There are several subcategories of breast revision surgery. They include:
Breast reconstruction for severe encapsulation or capsular contracture. This can be classified via Baker classification with a Baker IV being the worst, most painful and scarred up breast.
Malposition of breast implants, implants placed incorrectly, associated with transumbilical or transaxillary approaches frequently.
Double-bubble deformity, where the implants are superiorly elevated and the skin over-drapes it.
Ruptured implants, requiring removal and replacement of the implant.
Laxity of skin with implants, requiring breast lifts or formal mastopexies.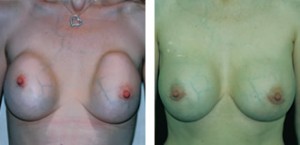 In the next upcoming blogs, we will describe each one of these specific categories in more detail and how we fix these in our Beverly Hills Surgery Center.