Breast Revision Surgery / Plastic Surgeon
Posted On: January 25, 2016 Author: The Office of Dr. Stuart Linder Posted In: Breast Implants, Breast Revision, Breast topics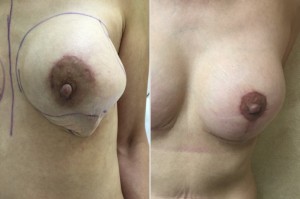 The female patient presented is 58 years of age and requested to have a
breast revision
. During the examination, I confirmed that she had capsular contracture (scar tissue) around the implants and required a breast lift to achieve her exceptions. Her previous surgery was performed less than a year ago by a non-board-certified plastic surgeon who elected not to do a breast lift during the primary augmentation.
This patient's reconstruction or breast revision included removing the implants, placing smaller saline implants to be more proportional to her size, as well a mastopexy (breast lift).
The frontal view photo of her left breast before her reconstruction shows capsular contracture (scar tissue), malposition of the implant, and ptosis or sagging of her breast. Her after photo (6 weeks post op)  shows a nice decrease in size, volume proportionate for her body, and good nipple-areolar positioning.