CLEAVAGE REPAIR STATUS POST BREAST AUGMENTATION – BEVERLY HILLS
Posted On: April 26, 2019 Author: The Office of Dr. Stuart Linder Posted In: Breast Augmentation, Breast Implants, Breast Revision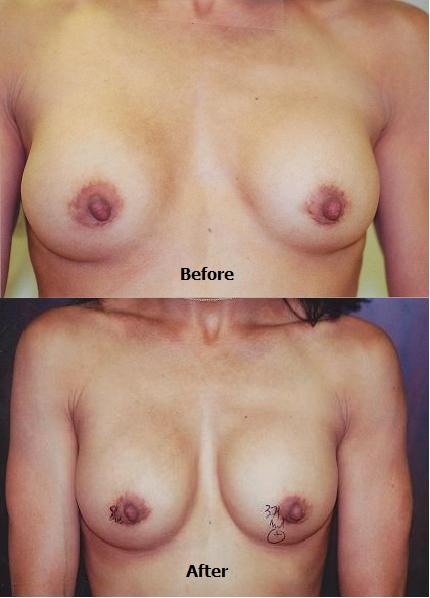 Patients present to my office weekly for breast revision surgery.  Cleavage is an important determinant and final result after breast augmentation procedures.  The patient in the photos underwent augmentation mammoplasty procedure by a different surgeon with obviously poor cleavage.  This was done through the transaxillary approach in which the parasternal attachments of the pectoralis major muscle were inadequately released.  We see this very frequently with patients having poor to no cleavage and having laterally displaced implants due to inadequate release of the muscle attachments along the medial parasternal ridge from the pectoralis major muscle.  In order to repair this patient's breasts and give her a reasonable amount of cleavage, the periareolar approach was performed.  The implants were removed and medial open capsulotomy and inferior capsulectomy were performed with a moderate plus silicone gel implant placed and very tight compression sports bra for six weeks postoperatively allowed, as you can see on the postop photo improved cleavage with medial Vectra forcing of the implants to the midline.  Notice, there wasn't a significant change in size of the implant, rather the pocket was released appropriately, implants were then brought to the midline and compression allowed for stabilization along the implants towards the sternal region.  Cleavage is an important determination of final outcome of breast augmentation surgery.  As a result, the approach that we take, periareolar and dual plane technique, allows for safe and predictable results, including final cleavage.
Case Study
This female patient is 28 years of age who underwent a primary augmentation by a different surgeon a few years ago.  During her consultation with me, she expressed that her breasts were positioned too high, and she was dissatisfied with her cleavage.  After her examination and discussing the expectations, we decided to perform a breast revision. During the breast revision surgery, we replaced her old implants with 700 cc saline high-profile implants.  Using high-profile implants provides a slightly wider base and an increase in upper pole fullness.
As you can see from the six-week post-op photo, the revision achieved a nice symmetrical balance and well-defined cleavage.
To schedule your consultation with Dr. Linder and learn more about breast revision surgery, call our office at (310) 275-4513 in Beverly Hills or fill out our online contact form today.