Postoperative Management Of Our Augmented Beverly Hills Patients
Posted On: March 17, 2010 Author: The Office of Dr. Stuart Linder Posted In: Breast Augmentation, Breast Implants, Breast Lift, Breast Reduction, Home
Acute v. Delayed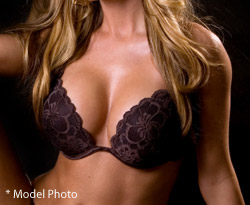 In the Acute Phase or first six weeks postoperatively, Dr. Linder instructs his patients not to do any heavy lifting over five pounds to prevent bleeding and hematomas, as well as to refrain from aspirin, Advil, Motrin, Excedrin, Ibuprofen or blood thinning products which could cause clotting deficiencies.
Acutely, we also make every attempt necessary to prevent infections by preventing water and sweating to the incision site around the areola.  This can be done by keeping the incisions clean, dry, changing gauze twice a day for 14 days, maintaining Keflex, or oral antibiotics for 7 days postsurgically.  Keflex 500 mg q.i.d. or pan allergic patients Cipro 500 mg p.o. b.i.d. times one week.  Our patients are maintained in athletic sports bras and upper pole compression bands in order to lower the implants to a correct anatomical position which has a more natural appearance.  Our implants are placed in the dual plane at least two-thirds under the muscle and lateral third subglandular and the upper pole band relaxes the upper pole muscle and softens the implant pocket, lowering the implant to a nice position.
Delayed or chronic postoperative care should include, once all sutures are removed and the patient is happy with the position of the implants, supportive brassieres all the time.  At night patients should wear athletic sports bras in order to maintain position and prevent malposition and displacement of the implants during the sleep phase and during the day, underwire supportive bras are useful in maintaining the inframammary fold and preventing bottoming out of the implants.
These are Dr. Linder's specific instructions.  Other surgeons may have their own postoperative management and care.  Please refer to your own surgeon for his or her specific instructions.