Primary Breast Augmentation
Posted On: October 27, 2015 Author: The Office of Dr. Stuart Linder Posted In: Breast Augmentation, Breast Implants, Breast topics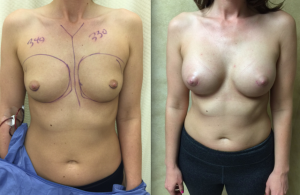 The female patient presented is 30 years of age and comes from the Los Angeles area. She was requesting a primary
breast augmentation
and was wanting to look very natural. After she explained her desires, we selected Allergan's moderate-plus saline breast implants with the right breast implant having 340cc and the left breast implant having 330cc.
After the surgery, we encouraged her to wear a support bra for the first four weeks postoperatively to maintain the breast pocket shape.
Above is the before and after photo of the patient; the after photo is seven weeks post-op.