Status Post Gastric Bypass Breast Reconstruction Revision
Posted On: October 24, 2011 Author: The Office of Dr. Stuart Linder Posted In: Breast Revision, Home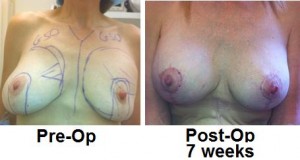 This patient underwent a gastric bypass procedure using the Roux-en-Y Gastroplasty at over a 130-pound weight loss.  She subsequently underwent augmentation mammoplasty procedure and a breast lift formal mastopexy by a different surgeon for severe involutional upper pole atrophy, and severe grade 3 ptosis.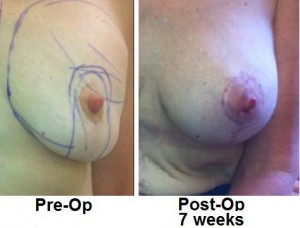 Her preoperative photos indicate unfortunate complete malposition of the implants.  There is a double-bubble deformity on the left.  The implant is superiorly retropositioned with the skin over-draping the nipple.  She also has an inadequate breast lift on the right from a vertical mastopexy that was performed which was the incorrect operation, thereby creating an inadequate result.  The patient subsequently underwent implant removal and replacement with high profile saline implants with 650 cc.  Open capsulectomies were performed.  The inferior capsules were released on the left.  The implants were dropped down to the correct position and a revision formal mastopexy using the inferior pedicle Wise-pattern technique was accomplished.  Now postoperatively, you can see that the nipple positions are even, the implants are positioned correct, there is no further malposition and she is extraordinarily happy with her results.
Patients who have gastric bypass surgery through lap bands, Roux-en-Y Gastroplasties, etc., will often require both removal of skin for severe grade 3 ptosis as well as implant placement in order to regain volume.  It is absolutely essential that a Board Certified Plastic Surgeon who specializes in breast reconstruction perform this operation to increase the probability of a successful outcome.