SYMMASTIA BREAST REVISION REPAIR
Posted On: November 16, 2009 Author: The Office of Dr. Stuart Linder Posted In: Breast Revision
Symmastia is a condition in which the skin and tissue of the breast sternal area and the midline is longer attached.  This can occur either due to genetic congenital deformity or technical difficulties or poor postoperative results from plastic surgery.  In the last two weeks, we have repaired two patients with severe symmastia.  One person presented from Puerto Rico with implants actually penetrating beyond the sternum and deviating to the contralateral breast.  In this case example, smaller implants were used by Dr. Linder.  The medial muscle was released and the lateral capsule was opened up.  The inframammary folds were tightened and the nipple areolar complex positions were realigned.  The postoperative results show excellent improvement with a more normal appearance to her chest.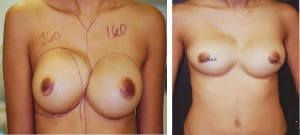 The second example shows the implant was performed twice by different surgeons.  There were two pockets, both subglandular and submuscular which had merged, causing the implants to push towards the midline and beyond.  This was easily repaired by opening up the lateral capsule creating a new single pocket, placing a smaller implant and performing an open lateral capsulotomy.
Symmastia, in my opinion, should never occur from plastic surgery of the breast.  It is in general a technical error by any doctor.  Only Board Certified Plastic and Reconstructive Surgeons should be performing breast augmentation surgeries, especially breast revisions, on difficult problems such as symmastia.