Tubular Breast With Augmentation
Posted On: May 18, 2017 Author: Dr. Stuart Linder Posted In: Breast Augmentation, Breast Implants, Breast topics, Tubular Breast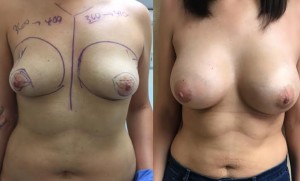 I was presented with a female patient who requested breast augmentation surgery along with correcting what she called her "constricted breast." During her examination, I found that she had a condition called tubular breast deformity. Tuberous breasts or tubular breasts are a result of a congenital abnormality. After listening to her goals, we agreed to her expectation and scheduled her surgery date.
During her surgery, I released and removed the constricted breast tissue. I selected the moderate plus saline implants for its wide base and the least amount of anterior/posterior projection.  I used 360 cc implants and overfilled the left to 410 cc and the right to 400 cc to achieve a nice balance.
The photo on the right is eight months post-surgery, and she is very happy with the shape and fullness of her breasts.
To schedule your consultation with Dr. Linder or learn more about breast augmentation surgery, call our office at 310-275-4513 or fill out our online contact form today.