27 Year Old Female Primary Augmentation
Posted On: October 26, 2016 Author: The Office of Dr. Stuart Linder Posted In: Breast Augmentation, Breast Implants, Breast topics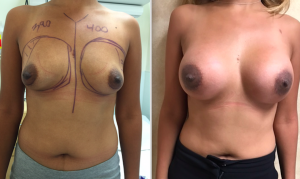 The patient to the left is a 27 year old african american female that was requesting a primary breast augmentation. During the consultation the patient explained her desire to enhance the size of her breast, but also stressed that she wanted to look as natural as possible. After setting her expectation we agreed to use high profile saline 350 cc implants and during the augmentation surgery I overfilled the left implant to 400 cc and the right to 390 cc. 
The post op photo is 8 weeks out, and she is very pleased with her enhanced and natural look.
For more information regarding breast augmentation surgery or a consultation with Dr. Linder, give us a call at (310) 275-4513 or feel free to contact us via email.