Breast Revision, With SCX Implant Replacement
Posted On: June 26, 2017 Author: The Office of Dr. Stuart Linder Posted In: Breast Implants, Breast Revision, Breast topics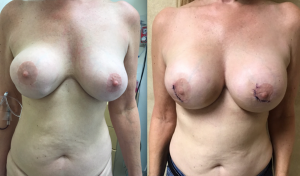 I had the opportunity to evaluate this 58-year-old female who was looking to have a breast revision. During her examination, the patient stated that she had a primary augmentation 35 years ago, and over time her breasts had become asymmetric. I explained to her that the asymmetrical appearance was due to scar tissue and a rupture of the gel implant in her right breast. She explained that her goal was to replace the implants and regain her fullness and projection. After listening and setting the exception, we scheduled a surgery date.
During the breast revision surgery, I removed the old implants and then performed a capsulectomy (removing the scar tissue). I then selected and placed 550 cc SCX gel breast implants. The SCX Allergan implants are ideal for providing
extra-high profile
projection and fullness.
The post-op photo is six weeks after, and the patient has the symmetrical balance and fullness she was hoping for.
To schedule your consultation with Dr. Linder and learn more about breast revision surgery, call our office at 
(310) 275-4513
 in Beverly Hills or fill out our
online contact form
 today.