Breast Revision Surgery Downsizing
Posted On: August 19, 2019 Author: The Office of Dr. Stuart Linder Posted In: Breast Implants, Breast Revision, Breast topics, Home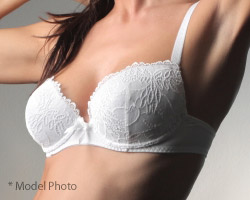 Many people decide to exchange their breast implants during their life. Whether it is because of a complication due to scarring around the capsule of an implant (capsular contracture), the collapse of the upper pocket (bottoming out), malpositioning or rupture of an implant, or personal preference, there are numerous reasons someone would choose to undergo implant exchange.
Over the past 20 years in my Beverly Hills practice, I have seen personal preferences change. In the late 1990s, larger breasts were more popular, early 2000s a more rounded look was desired, and now the trend seems to be moving more toward the natural and sporty look. A common reason people may want to exchange breast implants is to switch from saline implants to silicone since silicone implants were not available until 2007.
This trend is forever changing.
Exchanging Your Breast Implants
Weekly I see multiple patients who desire to have implants replaced with smaller implants and have the same question as to what will the pocket look like, how will the skin appear after the reduction in volume.
In many patients, it is difficult to determine the amount of skin tightening that will occur after significant downgrade in size of saline or saline implants. In general, reducing an implant by over 100 to 150 cc may lead to significant skin laxity which may require a breast lift concurrently with the implant exchange. There is never a guarantee to our patients that there will be no skin laxity after implants are removed completely or a reduction in significant size.
Interestingly, the new style 45 extra high profile gel has allowed us to downsize certain patients up to 200 cc because of the increased AP projection and less lateral width and still maintain nice upper pole fullness without significant skin laxity. The behavior of the skin after smaller implants are placed is different woman-to-woman and varies significantly. In no way can any plastic surgeon guarantee that your skin will remain tight after a significant change in volume.
The patient below had an implant exchange. Previous implants where 450 cc downsized to 280 cc (post op photo is 2 weeks out)
For more information regarding implant exchange or to schedule a consultation with Dr. Linder, give us a call at (310) 275-4513 or fill out our contact form.