Cleavage Enhancement After Previous Breast Augmentation
Posted On: June 14, 2016 Author: The Office of Dr. Stuart Linder Posted In: Breast Implants, Breast Revision, Breast topics, Uncategorized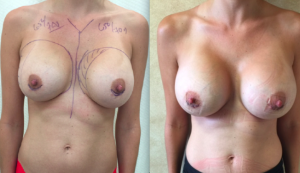 The female patient presented is 28 years of age who underwent a primary augmentation by a different surgeon a few years ago. During her consultation with me, she expressed that her breasts were positioned too high, and she had a poor-looking cleavage. After her examination and after discussing the expectations, we decide to perform a breast revision. During the breast revision surgery, we replaced her old implants with 700 cc saline high-profile implants. Using the high-profile implants provides a slightly wider base and an increase in upper pole fullness.
As you can see from the six-week post-op photo, the revision achieved a nice symmetrical balance and well-defined cleavage.
To schedule your consultation with Dr. Linder and learn more about breast revision surgery, call our office at (310) 275-4513 in Beverly Hills or fill out our online contact form today.