Downsizing With Full Breast Lift
Posted On: October 06, 2015 Author: The Office of Dr. Stuart Linder Posted In: Breast Implants, Breast Lift, Breast Revision, Breast topics, Uncategorized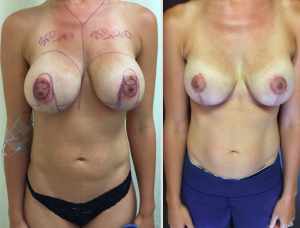 During her consultation, a 34-year-old mother of two explained that she was hoping to have a breast lift as well as a reduction in the size of her implants. After listening to her expectations and agreeing with her goals, we scheduled her for surgery.
During her breast revision surgery, we replaced her old 500 cc saline implants with 350 cc saline implants and performed a mastopexy (breast lift) procedure.
 After six weeks, the post-op photo shows a natural and symmetrical look. Also, below she is wearing one of my Sexy ShapeWear™ bras during her recovery as recommended.