Ruptured Silicone Gel Textured Implant
Posted On: May 17, 2019 Author: The Office of Dr. Stuart Linder Posted In: Breast Implants, Breast Revision, Implant Removal, Ruptured Implant
Case Study #1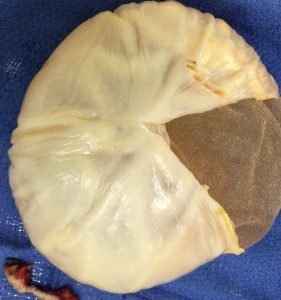 This is an excellent example of a reconstructive patient with ruptured silicone gel textured implants and an isolated capsule from the parenchyma of the breast. This is a 72-year-old Russian patient presenting from the USSR with specifically severe ruptured silicone Baker IV capsular contracture and a double-bubble breast deformity.
Upon entering into the breast pocket, the entire implant was notably isolated with the capsule and was detached from the parenchyma of the breast tissue. Notice the white capsule attached to the silicone gel implant. This is more likely in textured silicone cases. Why there was no longer contiguity of the capsule with the breast tissue is unknown. In any case, this is an interesting case of a free-floating silicone textured implant with the capsule completely isolated freely and mobile in the breast pocket. Capsules are made out of three components. Notice the white glistening of the capsules made out of high collagen levels, fibroblastic tissues and blood vessels. This extremely thick capsule was most notably interesting because of its contiguity with the silicone implant and its free-floating nature within the pocket.
Case Study #2
Ruptured Breast Implant Over 40 Years Old
In my Beverly Hills surgery center, I perform breast revision surgery due to implant ruptures. However, it is not often that I come across implants that are over 40 years old. This past month I was removing an implant, which I knew was placed in the late 70s, and to my surprise, the implant was still intact. As I removed the ruptured implants, I noticed it was a textured board base shaped implant.
As you can see by the photo, the silicone implant was leaking from the pores and calcification (calcium) is present. During the revision surgery, I completely removed all of the scar tissue, and the pocket was then reconstructed for the new implant to be placed.
For more information regarding ruptured breast implant removal or breast revision surgery, please give us a call at (310) 275-4513 or feel free to contact us via email.