Severe Double Bubble Deformity
Posted On: April 13, 2018 Author: Dr. Stuart Linder Posted In: Breast Augmentation, Breast Implants, Breast Revision, Capsular Contracture, Double Bubble Breast Deformity
Case Study 1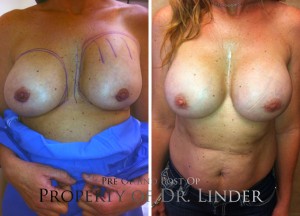 The patient presents with severe Baker IV capsular contracture with a left double bubble breast deformity with superior retroposition of the left implant causing a very unnatural appearance of her breast as well as severe pain. The patient has increasing pain in the left breast with swelling that is consistent with seroma-induced capsular contracture, subsequently leading to superior retropositioning of the left implant that causes a double bubble breast deformity. She also had inadequate release of the attachments of the pectoralis major muscle along the parasternal ridge and the lateral inframammary fold. Postoperative photographs show high profile saline implant replacement with left open periprosthetic capsulectomy, removal of fluid seroma, and complete release of the parasternal and the lateral inframammary attachments of the pectoralis major muscle. The symmetry is now good. The upper pole fullness is even, and the inframammary folds are in proper position. This photo is approximately six weeks after surgery.
Case Study 2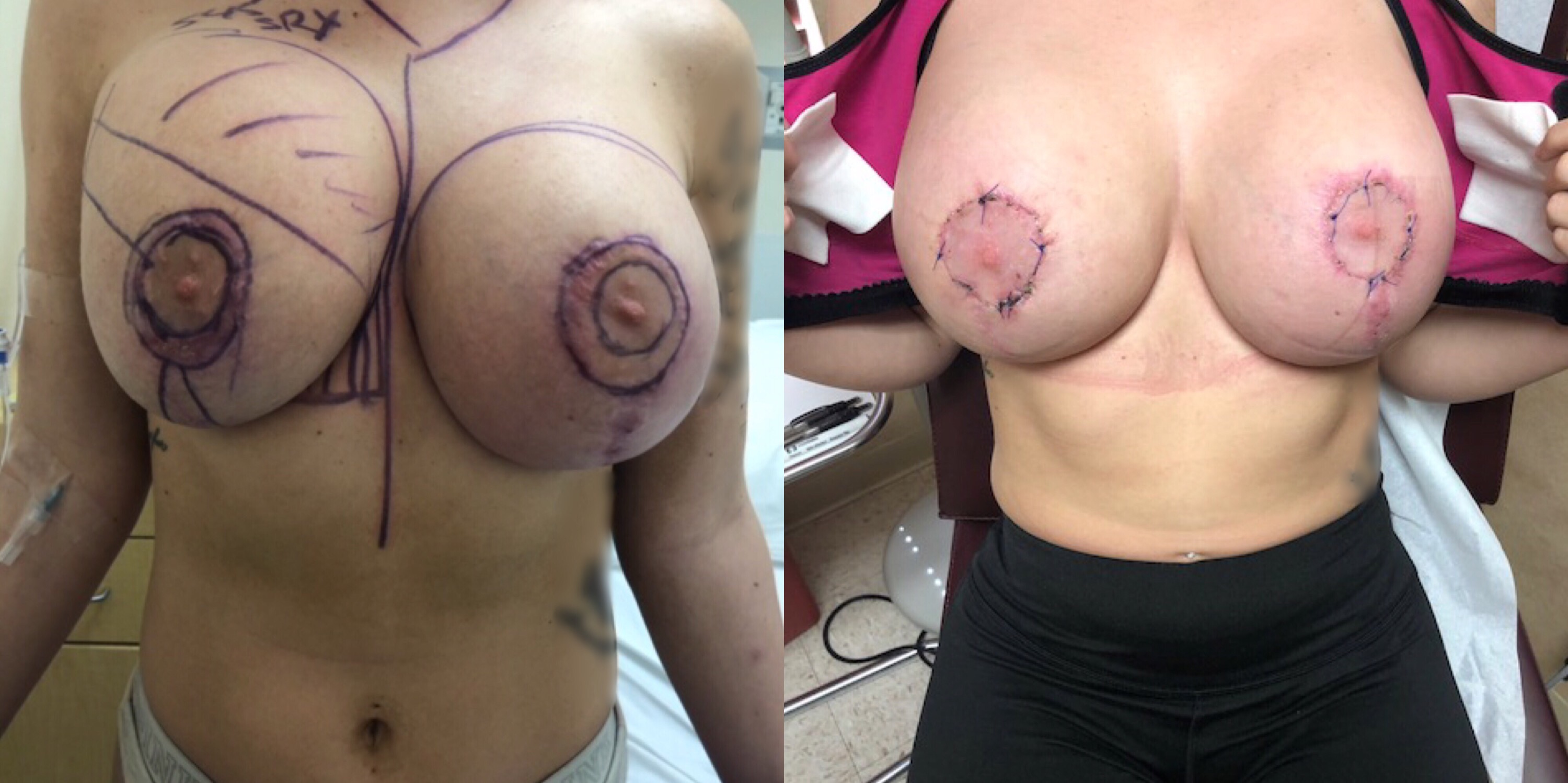 The pre-op photo shows a severe double bubble deformity. The patient's right breast has a Baker IV capsular contracture, which is pushing the muscle to a superior retroposition that causes a very unnatural appearance. The reason for this is due to the muscle contracting and causing the implant to push upward.
This patient had a primary augmentation one year ago by another surgeon, and she was hoping to correct her asymmetry. After listening to her expectations, we agreed to schedule a breast revision surgery date.
During the surgery, I performed a capsulectomy by removing the implants and scar tissue, which is the capsule around the implant, and I replaced them with 545 cc silicone gummy bear implants. I also lifted the breast to ensure a youthful appearance.
The post-op photo was taken two weeks after surgery, and she is healing well with symmetrical breasts. She will be wearing a compression bra for the next few weeks to help maintain the positions of the implants as she recovers.
Only breast revision surgeries such as these should be performed by board-certified plastic and reconstructive surgeons who have experience and judgment to perform these difficult operations.