Breast Implant Repositioning, Revision Surgery
Posted On: March 06, 2012 Author: The Office of Dr. Stuart Linder Posted In: Breast Implants, Breast Revision
The patient below presents to us unhappy with her laterally displaced implants.  She has low profile saline implants with a pocket that was released too far to the outer edge of her breast.  In order to fix this without performing an internal capsulorraphy or internal suturing, I performed a medial open capsulotomy, superior capsulectomy, removal and replacement with slightly larger over-filled high profile 465 cc to 490 cc bilateral, style 68 Natrelle implants in order to increase upper pole fullness as well as to allow medial displacement of the implant to retain the medial breast pocket and enhance her cleavage.  Equally as important was the postoperative compression with the Dr. Linder Bra.  The patient was fit into a small brassiere which allowed her to have repositioning of the implants medially without the use of lateral suturing or lateral capsulorraphy.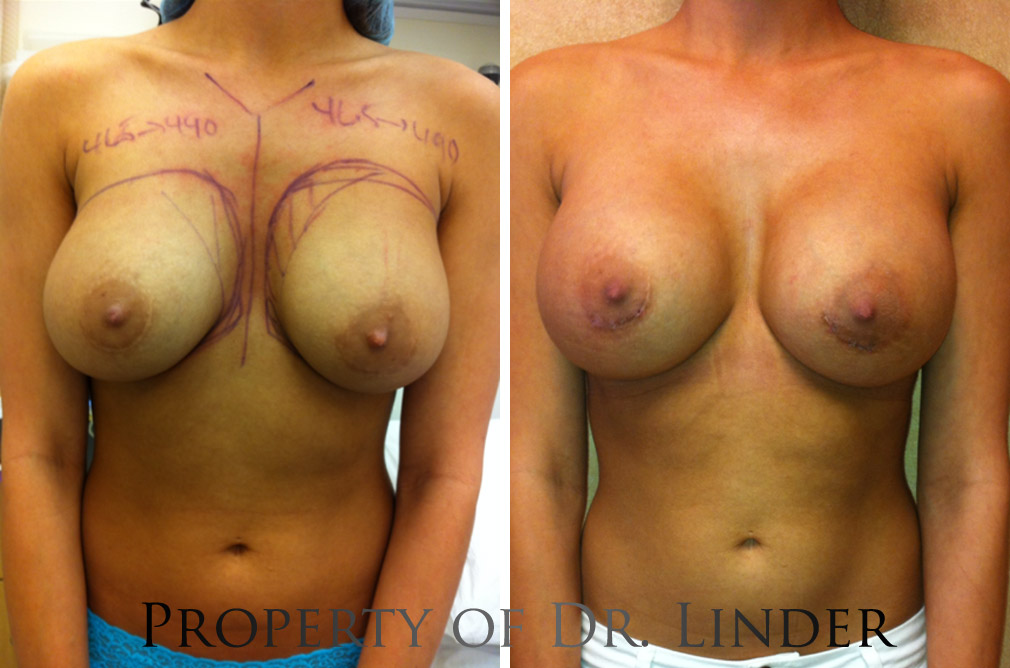 The postop photo shows her at three weeks out.  Sutures have been removed through the periareolar.  Patient should remain in the Dr. Linder Bra for the next three weeks in order to maintain the position of the implants and then can be positioned with an underwire brassiere.
Patients present for breast revision surgery throughout the week in my practice.  Whenever I am able to perform a repositioning of implant medially without capsulorrhaphies that can be unpredictable, we prefer the method of replacement with these larger high profile salines and significant compression with the Dr. Linder Bra postoperatively.