Choosing the Ideal Breast Implant Size
Posted On: July 16, 2018 Author: The Office of Dr. Stuart Linder Posted In: Breast Implants

In general, breast implants vary in size and volume. As a result, this will obviously create the size of the breast.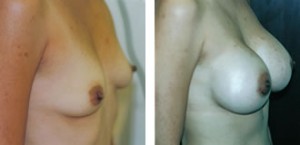 There are three different style saline and three different style silicone implants with McGhan, Natrelle implants manufactured in 2009. The three styles of saline includes a style 68 low profile, also referred to as the moderate profile, which ranges anywhere from 125 cc to 680 cc implant fill. Style 68 moderate profiles, which are now the moderate plus, range from `120 cc all the way to 800 cc. Finally, the style 68 high profile smooth round implants, which are the ones Dr. Linder favors, range from 160 cc all the way up to 800 cc. These implants can be filled approximately 10% of its original volume. An 800 cc implant can be filled, according to Allergan, to approximately 850 cc.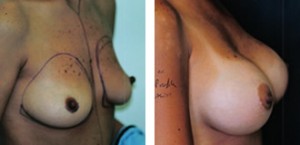 The Natrelle silicone gel-filled implants that are smooth and round, include Style 10, Style 15 and Style 20. The Style 10 moderate profiles, which are the low profiles, range in volume set from 120 up to 800 cc. I believe these are very flat, very wide and they give women a matronly flat appearance and heavy upper chest area with loss of upper pole fullness. I do not prefer these implants in the majority of our patients. The Style 15 is the mid-range moderate plus silicone gel. These can be useful in certain patients who just do not want any upper pole fullness whatsoever and want a little bit more narrow implant than the moderate Style 10.
Dr. Linder favors the Style 20 high profile smooth gels because these are the narrowest, most tapered implants. They range from 120 cc silicone gels up to 800 cc. Dr. Linder enjoys using high profile saline and silicone implants every week because they give great projection and they are not too wide, which is what he believes women want. They want to look thin, not fat and matronly, which can be seen with the flat moderate profile implants.
Below are two cases of patients who had requested breast augmentations and the size and type of implant they received.
Patient 1: Augmentation Mammoplasty
The patient below was requesting a breast augmentation, also known as a augmentation mammoplasty. She came to my Beverly Hills practice to enhance her breast size, to increase her fullness and appearance. Her goal was to have more confidence and well-proportioned breast.
After listening to her desires, we selected 320 cc moderate plus saline breast implants for the breast augmentation procedure. A periareolar incision was performed and the implants were placed using the dual plane technique. Postoperative photograph from the frontal view show excellent positioning with well-healed scars along the periareolar and excellent symmetry.
Patient 2: Primary Breast Augmentation
The female patient presented is 30 years of age and comes from the Los Angeles area. She was requesting a primary
breast augmentation
and was wanting to look very natural. After she explained her desires, we selected Allergan's moderate-plus saline breast implants with the right breast implant having 340cc and the left breast implant having 330cc.
After the surgery, we encouraged her to wear a support bra for the first four weeks postoperatively to maintain the breast pocket shape.
Above is the before and after photo of the patient; the after photo is seven weeks post-op.
To schedule your consultation with Dr. Linder or learn more about breast augmentation surgery, call our office at 
310-275-4513
 or fill out our 
online contact form
 today.