Inadequate Pectoralis Muscle Release Deformity
Posted On: June 08, 2011 Author: The Office of Dr. Stuart Linder Posted In: Breast Revision, Home
The below example is an excellent case of inadequate release of the parasternal attachments of the pectoralis major muscle.  Inadequate release of the muscle attachments along the inner chest wall can lead to severe deformity which can plague the patient for years to come.  The patient below has had multiple surgeries, actually three operations, and still has the severe banding along the parasternal ridge extending up towards the nipple areolar complex.  She has had multiple surgeries and at each setting the muscle was not appropriately released which continued to cause this deformity.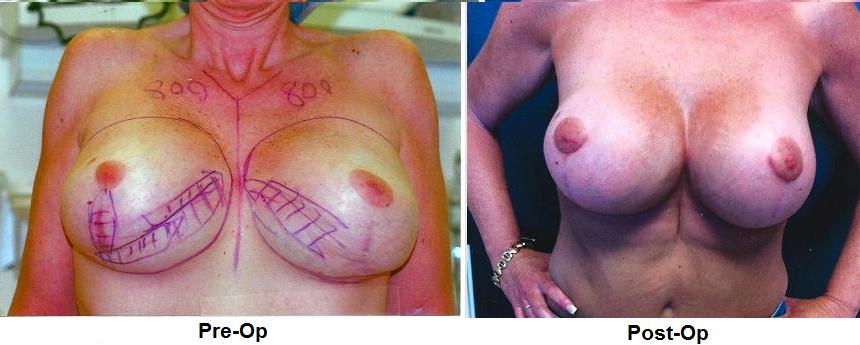 The preoperative photo shows the severe doubled-like folds which shows the banding and on flexion at the hips there is even displacement of the implants.  I refer to this as a "catcher's mitt" deformity in which the muscle attachments push the implants up and outward, causing severe deformity which cannot be corrected unless the muscle is completely released.  This patient by the purple markings shows the areas where the muscle will be released and capsulectomy will be opened through an open capsulotomy.  Care was taken not to remove a large amount of tissue or capsule in order to prevent visibility and palpability of the implant edge.  This patient underwent removal and replacement with style 45 extra high profile 800 cc silicone gel implants in order to regain fullness, as can be noted.  Also, note that the nipple areolar complex is now more centralized into the middle of the breast rather than as had been bottomed out previously.  The open capsulotomy extended under the clavicle and superior pocket which allowed the implant to lie in the correct position.  The muscle was completely released with electrocautery and a small portion of the capsule was opened obviously as well.
The postoperative results show a smoothing out of the medial pole of her breast bilaterally with symmetry and recentralization of the nipples.  This patient is now three months out.  This is a classic example of a type of revision that I perform almost weekly, in which the muscle again was not adequately released on three previous attempts.