SILICONE GEL IMPLANTS FOR BREAST ASYMMETRY
Posted On: September 10, 2009 Author: The Office of Dr. Stuart Linder Posted In: Breast Asymmetry, Breast Implants
"A NATURAL RESULT"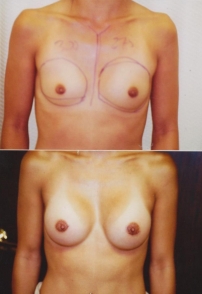 The case example below indicates a young female who desired a very natural full B, small C, final result that had slight breast asymmetry.
Upon reviewing her preoperative photos, it is obvious that the right breast is slightly smaller than the left and that the right inframammary fold is higher than the left.
The patient desires to have natural result and, however, has a narrow base diameter of 12 cm and will do well using high profile cohesive silicone gel implants.  A 300 cc implant was placed on the right, 280 cc gel was placed on the left.  This was done using the dual plane technique and through the periareolar approach underneath the areolas.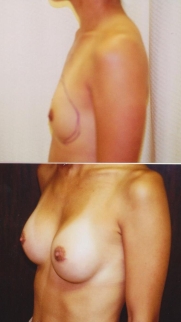 These results are six weeks postoperative, approximately 90% of the swelling is reduced, the implants successfully fall into the proper position by the use of an athletic sports bra without underwire for one month and an upper pole compression band that has softened and relaxed the muscle on the upper pole to allow the implants to fall into its natural position.
Patients over the age of 22 who desire the most natural results possible and have minimal breast tissue may have successful results using cohesive silicone gel implants of slightly different size volume in order to correct the asymmetry.